MILF, Animated, Animated Video, Translated, Big Tits, Cheating, Wife, Cuckold, In Front Of Husband, POV, Netorare, Blowjob, Handjob, Deepthroat, Cunnilingus, Facial, Cum in Mouth, Swallow, Anal, Double Penetration, Male Domination, Blackmail, Humiliation, Helpless, Rough Sex, Cunnilingus, Squirt, Cum in Pussy, Cum in Ass, Creampie
The heroine Yukino is troubled with her friend and family relations. With her boyfriend, she heads to a mental health clinic run by his uncle. The uncle recommends "hypnosis therapy" and the two accept treatment but…
"No, stop it…!" the girl begs for him to stop as his giant piece draws ever closer to her… eyeing her up without a shred of mercy. Before her boyfriend, wallowing in sorrow… drowning in his own tears… The cruel and scornful actions of brute unfurl.
Will you be able to watch to the end… A horrendously perverted tragedy that takes place in a small clinic…?
This 3DCG is hypnosis/mind break netorare hentai. The sex acts/positions are masturbation, blowjob, cunnilingus, deepthroat, deflowering, anal, creampie (oral, vaginal, anal), cumshot on face, (reverse) cowgirl, doggy style, missionary and piledriver while the BF is forced to watch.
Marketing blurb:
* Super Finely Detailed Textures, lip-sync and physics simulations! * Individually crafted by Atelier KOB to achieve the most realistic-looking product. Even small points such as the lip movement of faint panting have been lovingly animated. Enjoy a work as close to reality as you can get!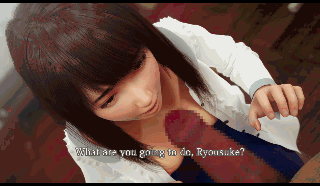 * Sticky fluids, deflowering blood Bodily fluid textures have been altered and touched-up on a scene by scene, shot by shot basis, so you can feel the changes in them as time passes. Enjoy seeing Yukino covered in high-quality love juice and semen!
* Sweaty hair, flush face As things get heated, naturally Yukino will get sweaty and red. To combat the uncanny valley and achieve further realism, we've paid a great deal of attention to even the color of Yukino's face, and the wetness of her sweaty hair on a shot-by-shot basis.
* Fluid camera and characters Using a model control system called a "rig", we've been able to create an extremely detailed animation. Notice the subtleties in Yukino's movement as she bucks her hips and rides the massive dick inside her.
Furthermore, while many animations contain a stationary camera in order to cut costs, Netorinbo Epilogue contains moving camera for almost every scene, using a total of 1,134,422 images!